No make-up chemical conversion treatment on finished metals (AM processing)
AM processing forms transparent conversion coating, which reveals the beauty of the finished metal surface.
By our original chemical conversion coating [AM processing], a transparent skin is formed with excellent environment-resistant characteristics on metallic beauty of the finished magnesium or aluminum components.
↓Compare the photo below of AM treated products of hairline-finished magnesium material to the photo above of the products without any treatment.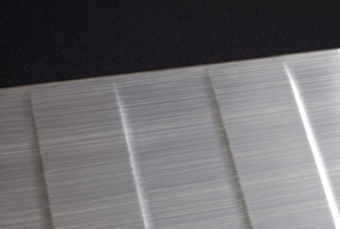 Polished products (untreated: no-make up)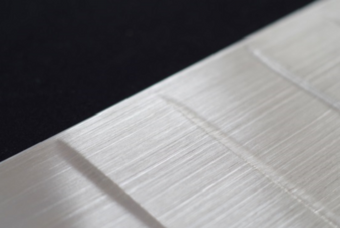 AM processed products (still it looks like no-make up due to the transparent skin.)
It will not be easy to find difference between finished metal surface and AM-processed surface. AM processing enables to form such a neat colorless transparent skin, while the other common chemical treatments form rather dull skin.
AM processing is a natural makeup for a metal. It shows the metallic beauty of the finished metal and its elegant texture, especially with its hairline-finish or its own metallic luster. This brings you unprecedented ornaments of products.
---
(Reference)
1.Why chemical conversion treatment is necessary?
1)For corrosion resistance
Magnesium and die-cast aluminum material has very activated surface, or susceptible to corrosion.
2)Paint base prevention
It improves the adhesion of the coated paint.
2.Difference from anodic oxidation
Anodic oxidation coating is a film formation by electrochemical reaction while chemical conversion treatment is by chemical reactions without electrical energy. Anodic oxidation forms metallic glossy surface and even colored one on rolled aluminum plates for decoration. However, on aluminum die-cast material it does not provide decorative effect because die-cast surface have heterogeneous metal structure such as flow lines or segregation of alloyed metals , which causes to appear some non-glossy spots or lines. In addition, the anodic oxidation coating is very difficult to apply to magnesium products. Especially in case of die-cast magnesium products, the anodic oxidation coating becomes uneven.
Mechanism of AM Processing
As magnesium and aluminum alloys are corrosive and have low paint film adhesiveness, they need surface treatments such as conversion treatment even on polished metal surface.

Conversion treatment layer is dull, ash gray or iridescent and clear coating has no effect as polished metal surface is invisible through the opaque conversion treatment layer.

AM Processing forms transparent, corrosion resistant and good paint film adhesive layer. By the transparent AM Processing layer, polished metal surface becomes visible through clear coating.
Therefore utilizing AM Processing makes new metallic decoration.
Flow of inquiries & process design about AM processing