Black chemical conversion treatment ——- Low color irregularity
ANC- black, ANC- gray
Major applications: Under-coat to conceal paint chipped spots and a substitute of paint coating in optical components to avoid contamination derived from paint.
1) Under-coat to conceal paint chipped spots (paint peeled part)
Once paint comes off, the product appearance may be damaged because underlying chemical conversion coat layer comes out. In this case the black conversion coat keeps the products' appearance.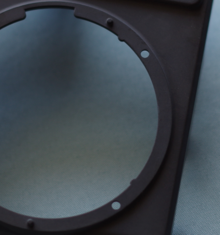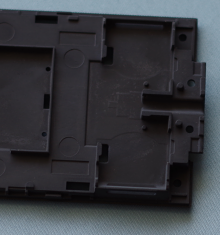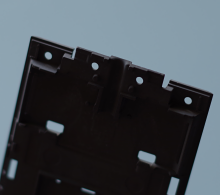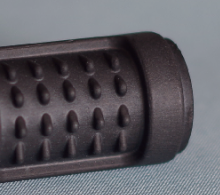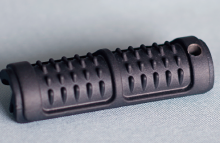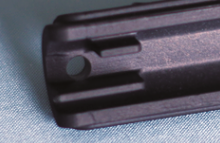 ↑Product examples 1: Applicable to die-casted and forged products of AZ and AM material.
---
Image of a chipped product (paint peeled)
When chipped, base coat comes out.→
2) For optical component parts that require severe dimensional accuracyor the parts needed to be prevented from contamination risk such as peeled paint in turning screws.
As to painted parts used in medical and optical equipments, precision machineries, and devices in clean rooms, there may be a risk of contamination as the paint will be chipped off in the processes like screwing when they are assembled. There are parts where painting cannot be applied because severe precision and strict dimensional accuracy is required.
By applying ANC black and ANC gray as base coating and adopting dark color thereof, painting can be eliminated, and, therefore, cost reduction is expected.
↓Product examples 2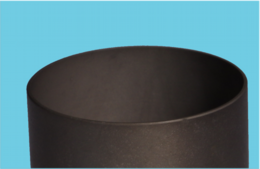 ANC-black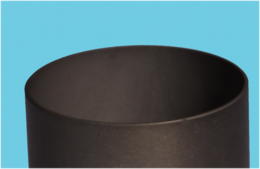 ANC-gray

Tone contrast  Left: gray Right: black
---
Features: Black with low color irregularity.
We have evolved conversion treatment technologies from ANC processing, which is a non-chromate chemical conversion treatment on molded or formed magnesium products, into a new technology. This new technology enables to form "black coating" with low color irregularities on magnesium alloy materials, which was used to be very difficult, without using toxic hexavalent chromate or fluorine compounds, while maintaining corrosion resistance.
---